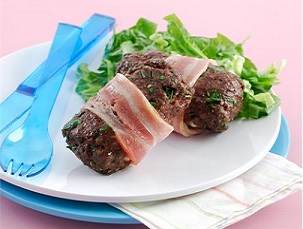 Beef Mince Surprise
This is a quick and easy meal only taking 5 - 8 minutes to prepare
Ingredients
500g Mince Extra Lean
2 tbsp chopped parsley
½ cup dried breadcrumbs
12 baby bocconcini
6 bacon strips
Serves: 6
Cooks in: 30 mins including prep time.
Difficulty: Easy
Method
Preheat fan forced* oven to 180°C.
Combine beef, parsley and crumbs.  Divide into 6 portions.
Roll each portion into a large flat rectangle.  Place 2 bocconcini in centre of beef and roll to totally enclose bocconcini.
Roll into small loaf shape.  Wrap one strip of bacon around centre of loaf.
Bake Beef Surprise on baking tray lined with baking paper for 25 - 30 minutes until bacon is crisp and beef is cooked through.
Recipe note: *if using a conventional oven, you may need to increase temperature or allow additional cooking time.
Serve with crisp green salad.