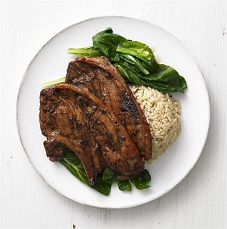 BBQ Chops with Sticky Chinese Barbecue Glaze
This recipe if based on 8 BBQ Chops. The marinade takes only 5 minutes to prepare. You can marinate the lamb overnight if you have time for extra tenderness and flavour.
Ingredients
1500g Lamb Bbq Chops
½ cup hoisin sauce, plus extra for greens
1 tbsp brown sugar
1 tsp sesame oil, plus extra for greens
2 bunches choy sum, chopped in 8cm lengths
steamed brown rice, to serve
Serves: 4
Cooks in: 25 mins
Difficulty: Easy
Method
Pat chops dry with paper towel and place on a plate.
Mix hoisin, sugar and sesame oil in a bowl with 1 tablespoon warm water until smooth. Brush marinade onto lamb.
Preheat a chargrill pan over high heat until very hot. Place a piece of baking paper on the grill to prevent sticking and place lamb chops on the baking paper. Cook in batches to prevent overcrowding.
Cook lamb for 4-5 minutes each side until marks appear and lamb is cooked to medium. Rest for 5 minutes.
Wash choy sum and toss in a hot frying pan or wok for 30 seconds or until just wilted. Drizzle with a little sesame oil.
Serve lamb with choy sum and steamed brown rice.