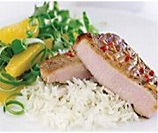 Kate's Orange & Chilli Pork Butterflied Steaks
This is a quick and easy meal. Don't forget to rest the pork, covered, for a few minutes before serving.
Ingredients
800g Pork Butterflied Steak
Rind and juice of 2 oranges
1 tsp red chilli paste
1 tsp fresh ginger, grated
Serves: 2
Cooks in: 1 hr including prep time
Difficulty: Easy
Method
Combine orange juice and rind, chilli and ginger in glass bowl, spoon over pork.  You can marinate the pork steaks for up to 4 hrs, turning frequently.
Heat a frying or griddle pan on medium for 2 mins. Lightly oil pan and cook pork steaks on medium heat for 3 mins each side or till done the way you like.
Serve with steamed vegetables or salad. Mix a new batch of marinade to drizzle over steaks for extra flavour.