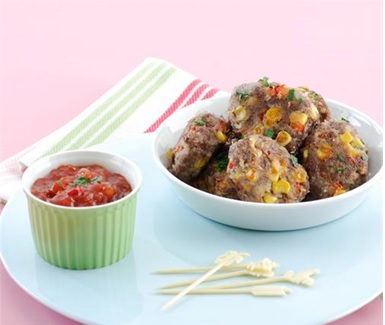 Beef Gold Nuggets
Keep the kids busy! Quick and very easy for the kids to make during the school holidays!
Ingredients
250g Mince Extra Lean
• ½ cup instant dried potato
• ¼ cup corn kernels
• ¼ cup finely chopped red capsicum
• ¼ cup dried breadcrumbs
Serves: 2
Cooks in: 6 mins Prep time: 10 mins
Difficulty: Easy
Method
Combine beef, potato, corn and capsicum.  Divide mixture into 10 portions and form into small oval patties.
Coat patties in crumbs, pressing on firmly.
Heat 20 ml oil in large frying pan.  Cook patties for 3 minutes on each side, until golden brown and cooked through.