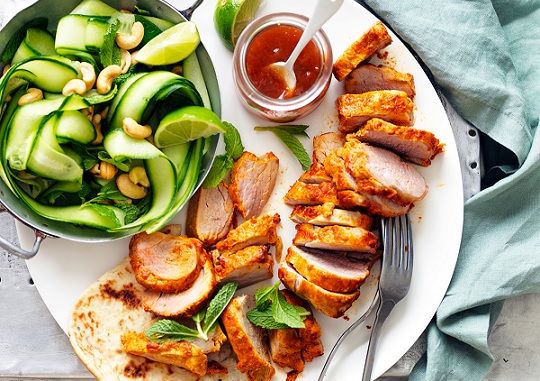 Indian Spiced Pork Fillet with Cucumber, Mint & Cashew Salad
This recipe is quick and easy and one that the whole family will enjoy!
Ingredients
800g Pork Eye Fillet
¼ cup tandoori paste
½ tsp ground turmeric
1/3 cup Greek-style natural yoghurt (plus extra to serve)
2 tbs lemon juice
2 large Lebanese cucumbers
1/3 cup small mint leaves
1/3 cup roasted cashews
1 tbs lime juice
Serve with warmed naan bread, lime wedges and mango chutney.
Serves: 4
Cooks in: 25 mins Prep time: 20 mins
Difficulty: Easy
Method
Preheat oven to 200˚C/180˚C fan-forced.

Combine tandoori paste, turmeric, yoghurt and lemon juice in a ceramic dish. Season with salt and pepper.

Trim the pork fillets and cut in half.
Add the pork to the combined ingredients and toss to coat. Cover and refrigerate for 15 minutes.
Meanwhile, using a vegetable peeler, slice cucumbers lengthways into thin ribbons (discard centre seed core). Place into a bowl. Add mint & cashews, drizzle with lime juice and gently toss to combine. Chill until ready to serve.
Drain excess marinade from pork and place pork onto a roasting tray lined with baking paper.
Roast pork for 20-25 minutes or until almost cooked through. Transfer to a plate, cover and rest for 5 minutes.
Slice pork. Serve with cucumber, mint and cashew salad, extra yoghurt, warmed naan bread, lime wedges and mango chutney.