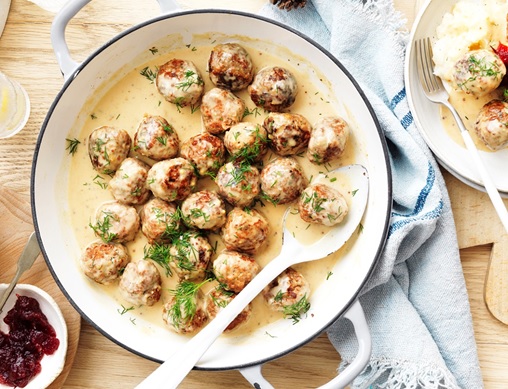 Pork Swedish Meatballs
Try something a little different and easy to make!
Ingredients
500g Pork Mince
1/3 cup panko breadcrumbs
2 tbs cream
1 small brown onion, finely chopped
2 garlic cloves, finely chopped
2 tbs finely chopped dill
½ tsp allspice
1 egg yolk, lightly beaten
1 tbs olive oil
40g butter
2 tbs plain flour
1 ½ cups chicken stock
1/3 cup cream
1 tbs wholegrain mustard
Serve with extra chopped dill, mashed potatoes and cranberry sauce.
Serves: 4
Cooks in: 20 mins Prep time: 25 mins
Difficulty: Easy
Method
To make the pork meatballs, combine breadcrumbs and cream in a large bowl and stand for 5 minutes.
Add pork mince, onion, garlic, dill, allspice and egg yolk. Season with salt and pepper. Mix until well combined.
Roll mixture into 16 meatballs and place onto a tray. Cover and chill for 30 minutes.
Heat oil in a large non-stick frying pan over medium-high heat. Add meatballs and cook, turning occasionally, for 5 minutes or until golden brown.
Transfer to a plate. Wipe the pan clean using paper towel and tongs.
Add butter to the pan and heat over medium heat.
Stir in flour and cook, stirring constantly, until pale brown. Gradually whisk in the stock until smooth.
Reduce heat and simmer for 3 minutes or until thickened.
Add pork meatballs and simmer, stirring occasionally, for 10 minutes or until meatballs are cooked through.
Stir in cream and mustard. 
Serve with chopped dill, mashed potatoes and cranberry sauce.