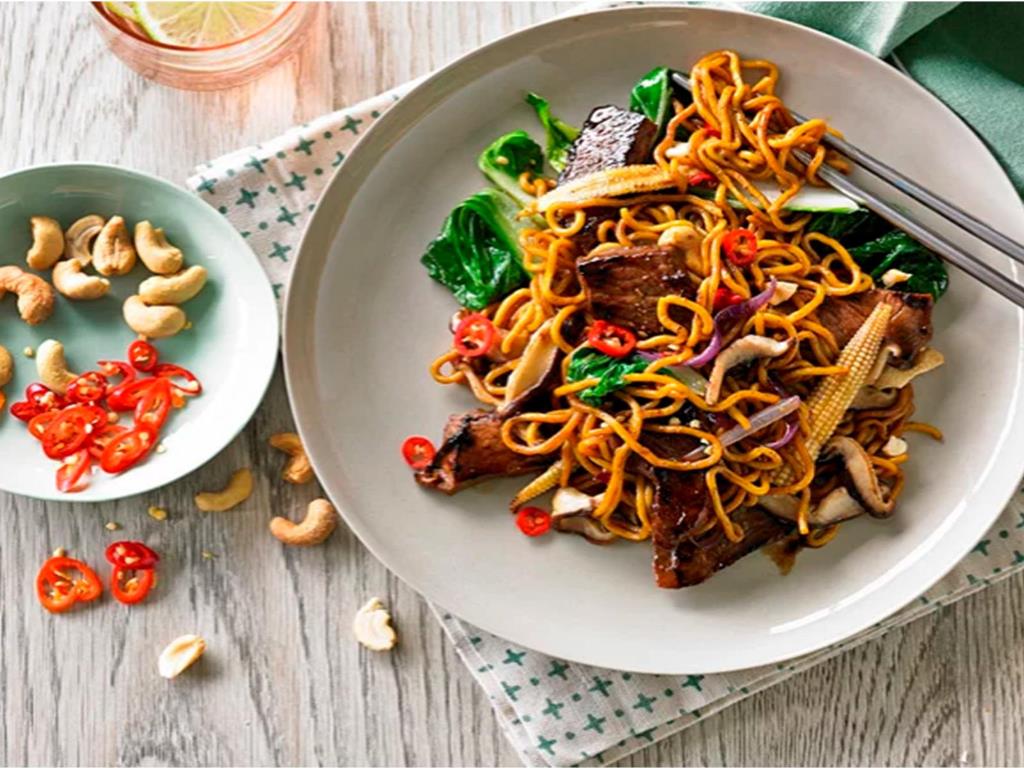 Stir-Fried Beef with Asian Greens & Cashews
This healthy Beef stir-fry is a quick and easy mid- week meal.
Ingredients
700g Rump Steak
450gm fresh hokkien thin noodles
80ml peanut oil
1 red onion cut into wedges
2 cloves garlic, thinly sliced
2cm piece ginger, peeled & grated finely
200g shitake mushrooms trimmed
60ml Chinese rice wine
2 bunches buk choy, trimmed & quartered lengthwise
2 bunches pak choy, trimmed & quartered lengthwise
1 packet baby corn, halved lengthwise
50g roasted cashews
Sliced chillies & coriander leaves, to serve
BEEF MARINADE
60ml tbs soy sauce
60ml sweet soy sauce
1 1/2 tps sesame oil
2 tsp corn flour
Serves: 4
Cooks in: 15 mins
Difficulty: Easy
Method
Prepare fresh hokkien noodles according to manufacturers instructions.
To marinate beef, whisk soy sauces, satay paste, sesame oil and flour together in a large bowl.  Add beef and toss well to coat.  Marinate for 25 minutes before cooking. Drain beef well and keep drained marinade.  Heat 2 tablespoons of peanut oil in a large wok over high heat.  Add beef and stir-fry for 3 minutes until bowned and just cooked.  Set aside.
Heat remaining oil in large wok, over high heat, add onion, garlic, ginger and mushrooms.  Cook for 5 minutes or until onions and mushrooms have softened.  Add reserved marinade and Chinese rice wine with Asian greens and baby corn.  Stir-fry for 2 minutes or until Asian greens have wiltered and corn is just cooked.  Add beef and any beef juices with noodles and stir-fry for a further 2 minutes until noodles have warmed through.
Divide Stir-fry among plates and scatter with roasted cashews. Serve with sliced chilli.
TIPS
Make sure stir-fry strips are cut in even lengths & thickness to ensure even cooking.