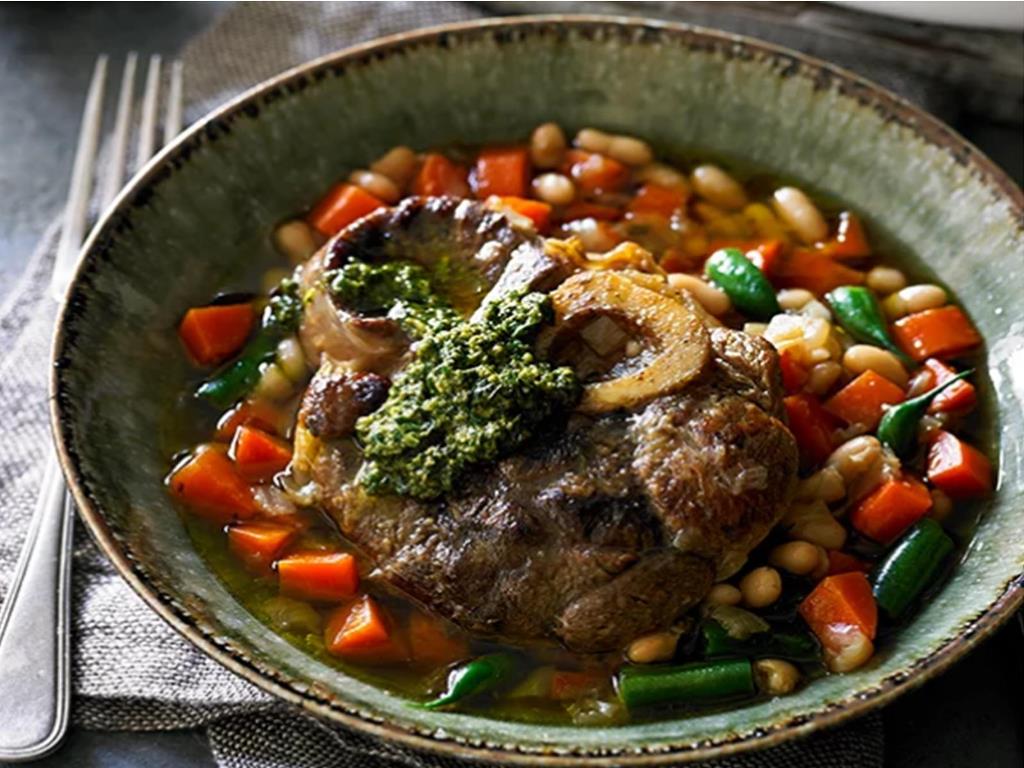 Osso Buco with Basil Pesto
A hearty and tasty meal for the cooler weather! Serve alongside a creamy potato mash or some fresh crusty bread!
Ingredients
600g Osso Bucco
1 tbs olive oil
500ml beef stock
1 onion, diced
2 carrots, diced
2 x 400g cans cannelini beans drained and rinsed
1 bouquet garni
1 cup chopped green beans
BASIL PESTO
2 cups Basil leaves
1/4 cup pine nuts
1 garlic clove, chopped
1/4 cup olive oil
40g parmesan, finely grated
Lemon wedges to serve, optional
Serves: 4
Cooks in: 1 1/2hr Prep 10 min
Difficulty: Easy
Method
Preheat oven to 180c.
Pat osso buco dry with paper towel, brush with oil and sprinkle with salt and pepper.  Heat a large cast iron pan with a lid over high heat and brown osso buco on both sides.
Add stock, onion, carrot, cannelini beans and bouquet garni.  Bring to the boil, cover meat with a piece of baking paper and then the lid and place in oven for 1 1/2 hours or until beef is very tender.
Add the green beans for the last 10 minutes of cooking.
BASIL PRESTO
Place Basil, pine nuts and garlic in a small food processor and process until finely chopped.  Add olive oil and process until smooth.  Stir through parmesan and season with salt and pepper.  Add lemon juice if desired.
Divide vegetables and sauce between 4 bowls and top each with a piece of osso buso and a dollop of pesto.
TIPS
Bouquet garni is a small parcel of herbs, usually bay leaf, lemon peel, thyme, rosemary, but you can use whatever you have on hand.
If you're short on time substitute basil presto with a store-bought jar version.