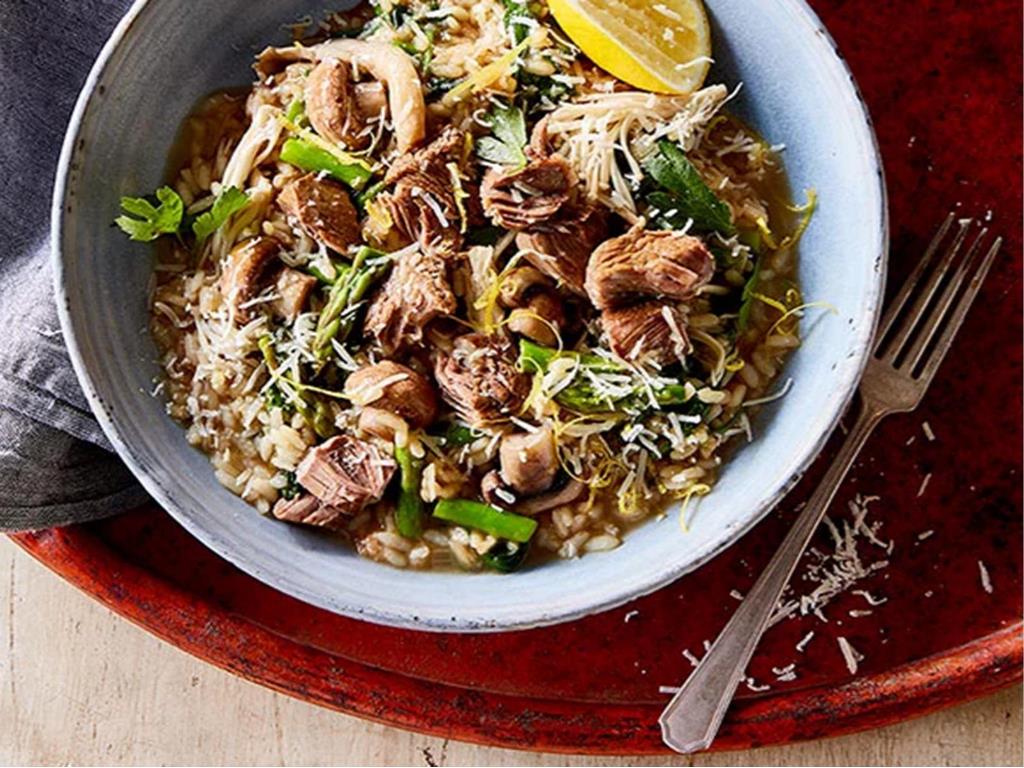 Beef & Mushroom Risotto
A tasty, hearty and easy meal to impress!
Ingredients
600g Gravy Beef
2 brown onions, thinly sliced
3 fresh thyme sprigs and 1 tbs extra leaves
1 bay leaf
1.5 ltr beef stock
2 tbsp olive oil
2 garlic cloves, finely sliced
400gm Arborio rice
125ml dry white wine
1 bunch asparagus cut into 2cm lengths
25gm finely grated parmesan cheese plus extra to serve
60gm baby spinach
400gm mixed mushroom sliced
1 lemon zest to serve
chopped parsley leaves to serve
Serves: 4
Cooks in: 1 hr 45min Prep 15 min
Difficulty: Easy
Method
Place half the onion, thyme, bay leaf and stock in a large saucepan and bring to the boil.  Add beef.  Reduce heat and simmer, covered for 1 hour or until beef is tender.
Using a slotted spoon, remove beef from cooking liquid and coarsely shred.  Strain cooking liquid into a medium saucepan and discard solids.  Set stock mixture aside.
Add the remaining onion and oil into a large saucepan over meadium heat.  Cook onion, stirring until softened.  Add garlic, stir and cook for a further minute.  Add rice and thyme leaves and stir to coat for 2 minutes.
Add wine, bring to a simmer and stir until liquid has absorbed.  Add warm stock, one ladle at a time, stirring constantly, and allowing the stock to be absorbed before adding the next.  Cook for 25-30 minutes or until all the stock has been used and rice is al dente, add the asparagus for the final 5 minutes.
Remove from heat, add parmesan, spinach, season and stir.  Cover and rest for 5 minutes.
Meanwhile, heat remaining oil in a large non stick frying pan over medium-high heat.  Cook mushrooms, stirring for 5 minutes or until softened.  Add mushroom and beef to risotto and stir.
Serve risotto with lemon zest, parsley and remaining parmesan.