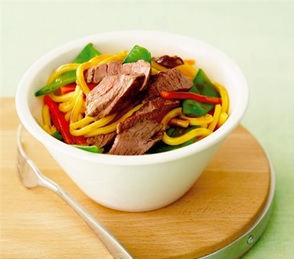 Hoisin Lamb Fillet with Hokkien Noodles
Replace the lamb fillet/tenderloin with lamb backstrap or lamb round or topside steaks. Pan-fry, rest and slice lamb as directed.
Ingredients
1000g Lamb Eye Fillet
1 tbsp sesame oil
2 tbsp hoisin
1 medium carrot, cut into fine strips
250g snow peas, trimmed
500g pkt fresh hokkien noodles
1 tbsp oil
2 tbsp oyster sauce
Serves: 4
Cooks in: 15 min Prep time: 20 mins
Difficulty: Easy
Method
Brush the lamb fillets with combined sesame oil and hoisin.  Season with salt and pepper.
Preheat a non-stick pan to moderately hot.  Keep the heat at moderately high.  Cook one side of lamb fillet until the first sign of moisture appears on the uncooked side, turn and cook other side.  You may need to turn the meat 3 times so all sides are browned.
Test for doneness with tongs.  Rare is soft when pressed, medium is springy and well done is very firm.  Rest the lamb for 2 minutes before slicing.
While lamb is resting rinse the rice noodles under hot water, gently separate.  Heat a wok or large fry-pan, add oil and heat.  Add the carrot and snow peas stir-fry for 1 minute.  Add the noodles, stir-fry for 2 minutes or until noodles are hot.  Add oyster sauce, stir-fry to mix. Slice the lamb thinly and toss it through the hokkien noodles.
ESSENTIAL TIPS  
Lightly oil the meat before cooking with a brush.
Make sure to rest the meat before slicing.