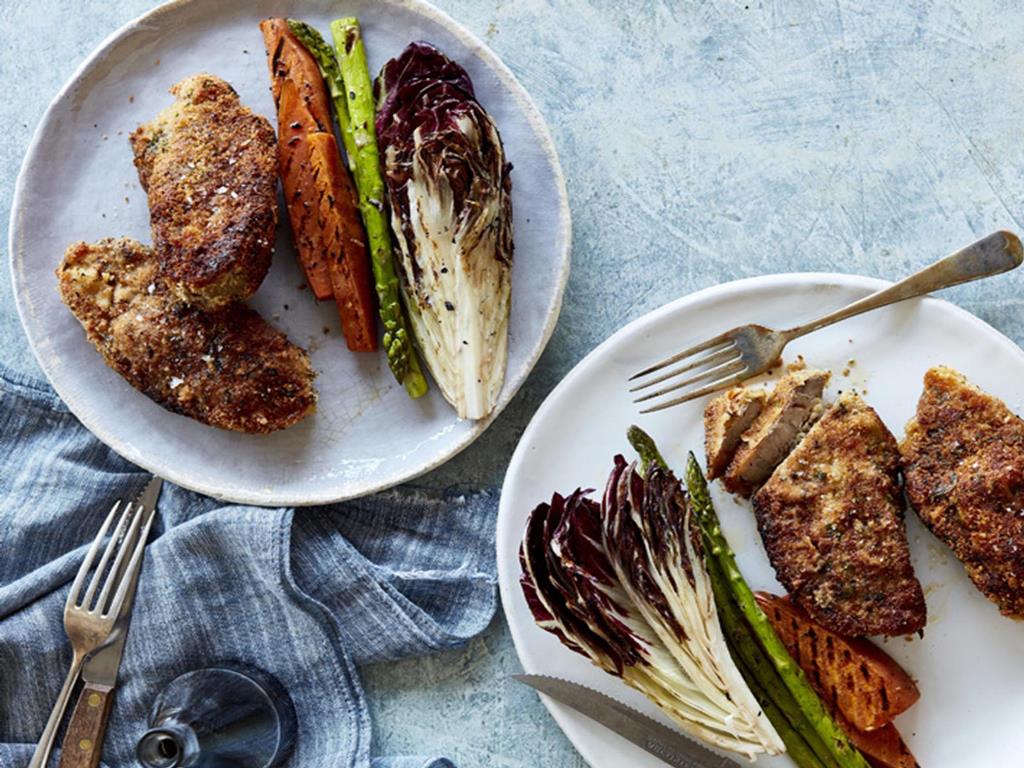 Herb, Panko & Parmesan Crusted Chump Chops
Using the fresh herbs in this meal, adds to a very tasty dish.
Ingredients
200g Lamb Chump Chops
3/4 cup plain flour seasoned with salt & pepper
2 eggs, lightly beaten
2 cups panko crumbs
1/2 finely grated parmesan cheese
1 tbsp fresh mint leaves, finely chopped
1 tbsp fresh flat-leaf parsley, finely chopped
1 tbsp fresh chives, finely chopped
1/3 cup olive oil
Serves: 4
Cooks in: 30 mins Prep time 20 mins
Difficulty: Easy
Method
Preheat oven to 180 degreees.  Line a large baking tray with baking paper.
Place the flour, eggs, and breadcrumbs into 3 separate shallow bowls.  Add the parmesan and herbs to the breadcrumbs and season with salt and pepper.  Stir to combine.
Dip each chop in the flour to coat, followed by the egg wash, then the breadcrumbs, pressing to coat each chop.  Set aside on a plate.
Preheat half the olive oil in a large non-stick frying pan over medium heat.  Cook the chops, in batches, for 3 to 4 minutes on each side until lightly golden brown, adding extra oil as necessary.  Drain chops on a board lined with kitchen paper.  Transfer to the prepared baking tray.
Cook the chops in the oven for a further 8 to 10 minutes or until cooked to your liking.
SERVING SUGGESTION
Serve the the chops, together with some char-grilled vegetables and lemon wedges or a simple mixed leaf & baby rocket salad works perfectly.
For a spicy twist, you can add 1 tablespoon of Cajun seasoning to the flour before coating the chops.