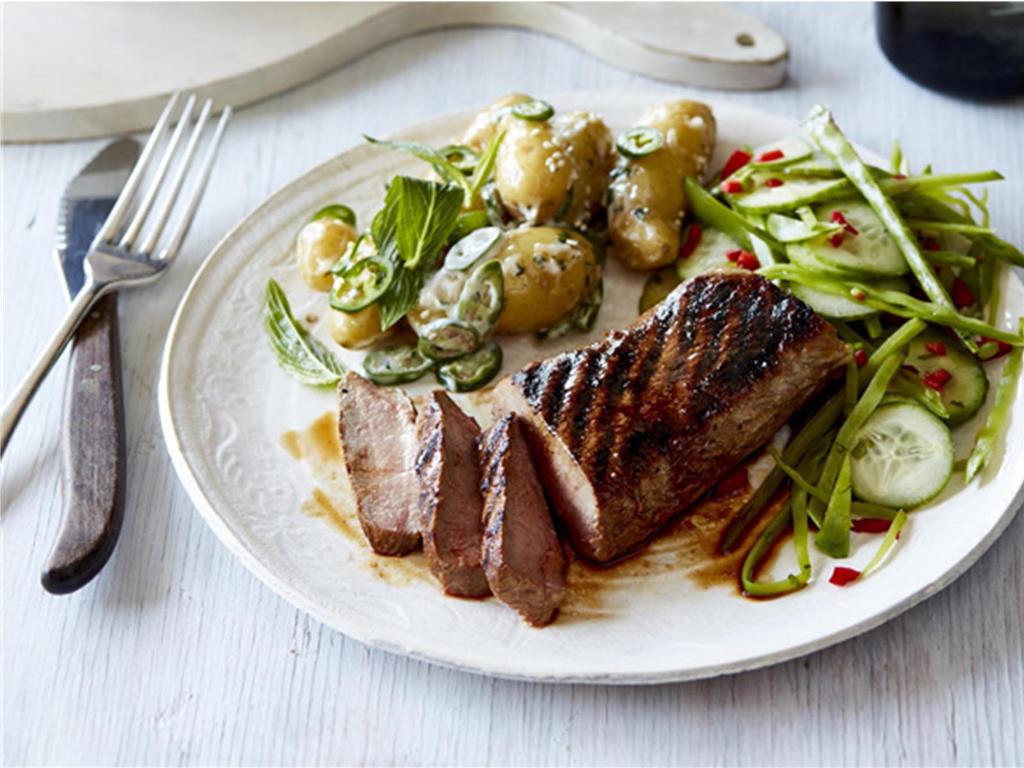 Miso Lamb, Asian Potato Salad & Cucumber Pickle
Great, easy to prepare meal.
Ingredients
200g Backstraps
1 tbsp olive oil
2 tbsp white miso paste
2 tbsp rice wine vinegar
1 tbsp honey
1 tbsp light soy sauce
2 tsp sesame oil
400G Kipfler potatoes, scrubbed
100g snowpeas, trimmed and thinly sliced
1 red chilli, deseeded and finely chopped
1/4 cup fresh coriander leaves, roughly chopped
1 green onion, thinly sliced
1 tsp caster sugar
1/4 cup kewpie mayonnaise
1 green chilli, thinly sliced
1/4 cup fresh mint leaves, roughly chopped
1 tsp sesame seeds, toasted
Serves: 4
Cooks in: 25 mins Prep time 15 mins
Difficulty: Easy
Method
Place lamb in a large snap lock bag. In a small bowl, whisk together miso, half the rice wine vinegar, honey, soy and half the sesame oil. Pour over lamb, seal and let marinate for about 1 hour.
Meanwhile, place potatoes in a large saucepan of cold water and bring to the boil. Boil potatoes for 10-12 minutes or until tender. Drain, cool and thickly slice.
Place the cucumber, chilli, onion and coriander in a medium bowl. Combine remaining rice wine vinegar with sugar and drizzle over vegetables. Toss to coat and set aside.
Heat a char-grill pan or BBQ over medium heat and cook drained lamb for 4 to 5 minutes on each side, brushing regularly with the marinade, or until medium-rare. Set aside for 5 minutes. Thickly slice.
Place cooled potatoes in a large bowl, add remaining sesame oil, mayonnaise, green onions and mint. Season and toss to coat.
Sprinkle lamb with sesame seeds and serve with potato salad and cucumber pickle.