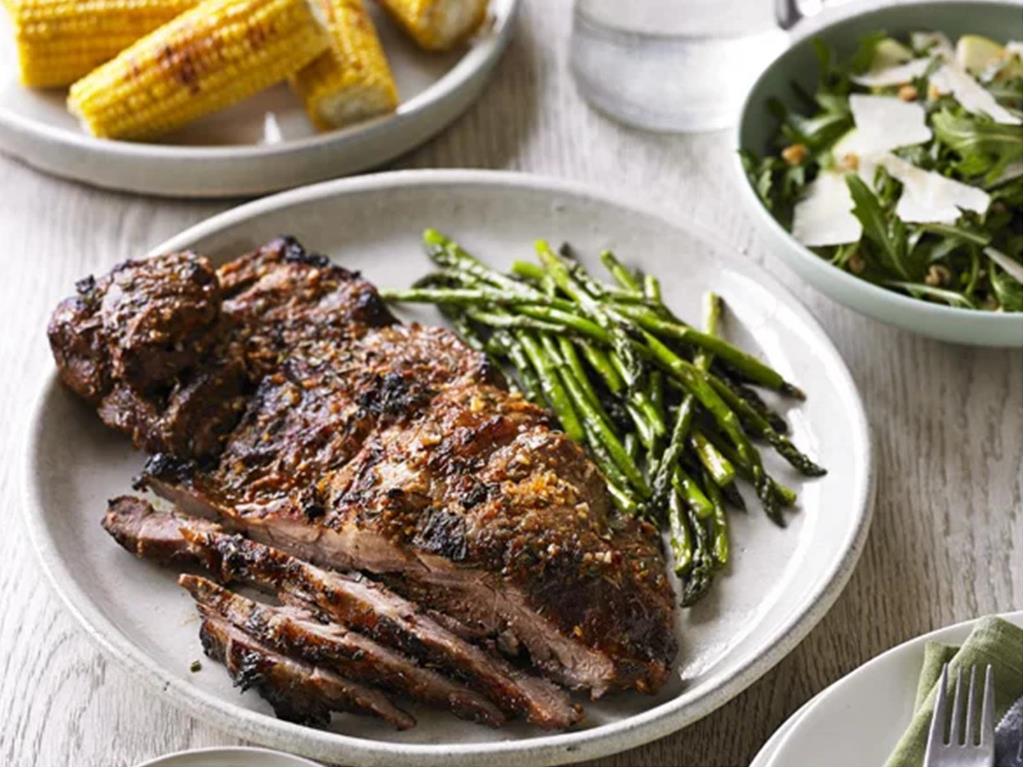 Butterflied Lamb Leg with Lemon & Herb Cream
With this recipe, you can substitute the sour cream with creme fraiche or yoghurt. And, if time permits, marinate the lamb for 3 hours or overnight. Butterflied lamb leg cooks quicker than a bone-in leg. You can substitute the butterflied leg with a butterflied lamb shoulder or a boned and rolled shoulder.
Ingredients
1600g Lamb Legs Butterflied
2 lemons, zested
60 ml lemon juice
60 ml honey
3 garlic cloves, crushed
3 tsp sweet paprika
2 tbsp finely chopped fresh rosemary
60 ml extra virgin oilive oil
6 small sweet corn, husk removed
3 bunches asparagus, trimmed
LEMON & HERB CREAM
360ml light sour cream
2 tbsp finely chopped fresh dill
2 tbsp finely chopped fresh mint
2 tbsp finely chopped fresh flat-leaf parsley
1 lemon, zested and juiced
Serves: 6
Cooks in: 45 mins Prep time 35 mins
Difficulty: Easy
Method
Preheat oven to 200c.  To make the marinade, place zest, juice, honey, garlic, paprika, rosemary and oil in a large bowl.  Whisk and season to taste.  Add lamb and using your hands, rub the marinade all over.  Place lamb in a large roasting pan on top of a wire rack.  Roast for 45 minutes, uncovered or until cooked to your liking.  Rest for 20 minutes covered loosely with foil in a warm place before carving.
Meanwhile, to make the lemon and herb cream, place all ingredients in a small bowl and stir to combine, season with salt and pepper to taste.
Serving suggestion
Carve lamb, after resting, and serve with the lemon and herb cream.  Ideal accompaniments to this roast are char-grilled vegetables like corn and asparagus.