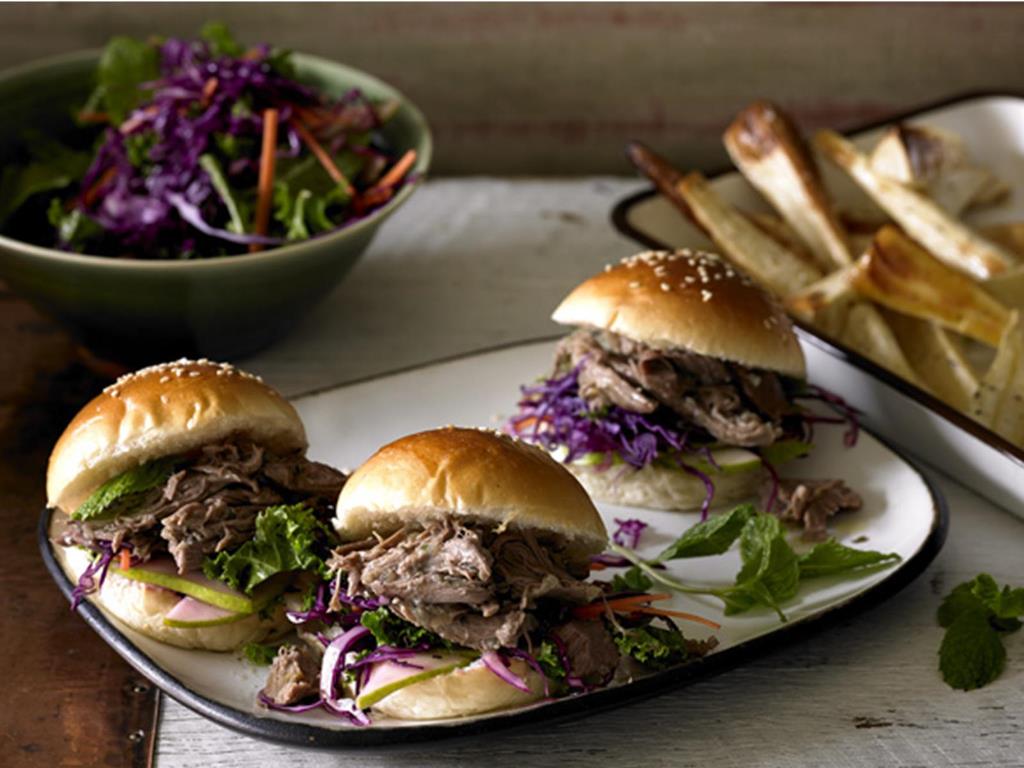 Pear & Sage Lamb Sliders
This is a great recipe to serve at any gathering.
Ingredients
1200g Lamb Forequarter Roast
1 Packham pear, grated
12 fresh sage leaves, chopped
1 tbsp olive oil
4 parsnips, peeled and cut into 5cm batons
SLAW
1 pear, thinly sliced
1 bunch fresh mint leaves, roughly chopped
1 carrot, cut into thin batons
1/2 bunch fresh kale, stems removed, leaves finely shredded
1/4 red cabbage, finely shredded
1 tbsp extra virgin olive oil
4 tbsp apple cider vinegar
10 soft brioche buns
Serves: 10
Cooks in: 6 mins Prep time 120 mins
Difficulty: Easy
Method
Place lamb in a roasting tray.
Place grated pear, sage leaves and oil in a small bowl.  Toss to combin and season with salt and pepper. Spread all over the lamb.  Leave to marinate for 30 minutes at room temperature, or up to overnight in the fridge.
Preheat oven to 200c, pour 1/2 cup water into the base of the roasting dish and cover tightly with foil.  Cook lamb for 2 hours or until tender enough to shred with two forks.  Shred lamb and season if necessary.
Toss parsnips in a little oil, salt and pepper and roast for 40 minutes until golden brown and crisp on the edges.
Fill buns with the slaw and top with the shredded lamb.  Serve with roasted parsnips on the side.
TIPS
After shredding, check the seasoning of the meat and add a squeeze of lemon and salt and pepper, if needed.
Lamb can be cooked and shredded in advance and reheated to serve.
2 hours is the minimum cooking time.  If possible, you could leave the lamb in the oven for another 30 minutes to 1 hour.  The lamb will only get better and easier to shred.
Other slaw ideas are beetroot and apple,