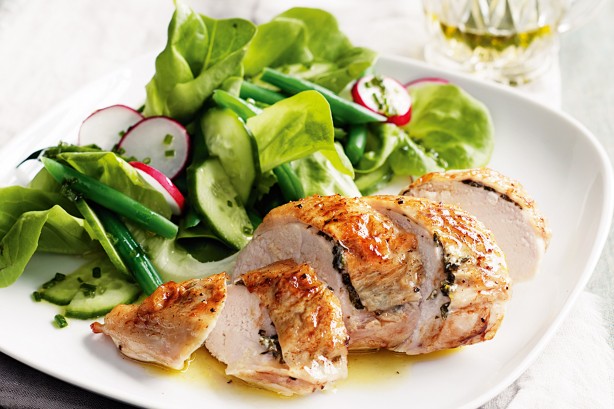 Baked Chicken with Thyme & Sage Butter
The stuffing butter and herbs under the chicken skin makes for a very tasty dish - serve it at your next dinner party.
Ingredients
800g Chicken Breast Fillets
80g butter, softened
1 tbsp finely chopped fresh thyme leaves
2 tsp finely chopped fresh sage leaves
1 tbsp finely grated parmesan
Olive oil cooking spray
100g green beans, trimmed, halved
1 small butter lettuce, leaves separated and torn
1 Lebanese cucumber, halved lengthways, sliced
2 radishes, thinly sliced
WHITE BALSAMIC DRESSING
2 tbsp extra virgin olive oil
1 1/2 tbs white balsamic vinegar
1 tbsp finely chopped chives
Serves: 4
Cooks in: 30 mins Prep time: 1 hr
Difficulty: Easy
Method
PLEASE NOTE:  When selecting your fresh meat products allow between 200-250gms per Chicken Breast Fillet, if unsure please let us know the number of chicken fillets required by placing a comment in the order section.
Place butter, thyme, sage and parmesan in a bowl.  Season with salt and pepper.  Mix well.  Using your fingers, gently loosen chicken skin on each piece of chicken.  Push butter mixture under skin.  Place chicken on a large plate. Cover. Refrigerate for 30 minutes, or until butter is firm.
Preheat oven to 220°C/200°C fan-forced.  Line a baking tray with baking paper.  Place chicken on tray.  Spray with oil.  Season with salt and pepper.  Bake for 10 minutes.  Reduce oven temperature to 200°C/180°C fan-forced. Baste chicken with pan juices.  Bake for a further 15 to 20 minutes or until chicken is cooked through.
Place beans in a microwave-safe bowl.  Add 1 tablespoon cold water.  Cover.  Microwave on high (100%) for 1 minute or until tender.  Drain.  Refresh under cold water.  Drain.
Make white balsamic dressing: Place oil, vinegar and chives in a screw-top jar.  Season with salt and pepper.  Secure lid.  Shake to combine.
Place lettuce, cucumber, beans and radish in a bowl.  Drizzle over dressing.  Toss to combine.