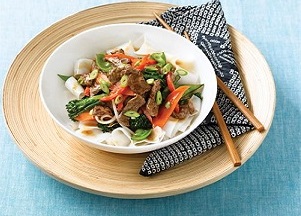 Beef Stir-Fry with Fresh Rice Noodles
Coat the meat in oil instead of adding oil to the wok. You can also add ingredients like a little soy or grated ginger for flavour. Use your fingers to massage the oil into the meat strips. • Best beef cuts for stir-frying: Use beef stir-fry strips or prepare your own from rib eye/scotch fillet/tenderloin, sirloin/porterhouse/New York, rump, boneless blade, round, oyster blade or topside steaks.
Ingredients
500g Rump Steak
1 tbsp brown sugar
2 tbsp oil
500 g pkt fresh rice noodles
2 tsp sesame oil
1 bunch baby bok choy, washed and separated into leaves
2 tbsp oyster sauce
1 tbsp soy sauce
2 tsp sesame seeds, toasted
sliced fresh red chilli, (optional)
Serves: 4
Cooks in: 5 mins Prep time: 15 mins
Difficulty: Easy
Method
Cut the beef across the grain into thin strips.  Rub the brown sugar into the beef strips, then add a little of the oil to the beef.  Mix well.  Rinse the rice noodles under hot water, gently separate.  Pan-fry or steam the noodles until hot, drizzle with sesame oil.  Set aside.
Heat the wok, ensure it is hot. Stir-fry the beef strips in 3 batches, reserving each cooked batch to rest in a warm bowl.  Reheat wok between each batch.
Reheat the wok, add remaining oil and heat.  Add the bok choy, and stir-fry for 2 minutes.  Add the combined oyster and soy sauces, stir-fry to mix.
Return the beef to the wok, toss to combine.  Place rice noodles on serving plate, add beef stir-fry.  Sprinkle with sesame seeds and sliced red chilli if desired.
Serving suggestion: Shredded ginger and spring onions.