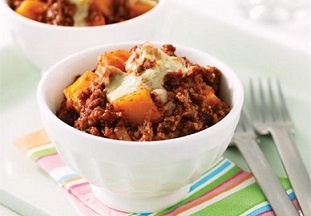 Mince & Pumpkin Melts
Simple flavours make this a favourite dish. It's perfect for an easy school-night meal...works great after sport training too. Swap the pumpkin with sweet potato or potato if you choose.
Ingredients
400g Mince Extra Lean
400ml jar tomato pasta sauce
300 g peeled pumpkin, cut into 1.5 cm cubes
½ cup grated tasty cheese
Serves: 4
Cooks in: 20 mins Prep time: 10 mins
Difficulty: Easy
Method
Place mince in a bowl and mix in a little oil.   Heat a large frypan until moderately hot, crumble in the mince.  Brown the mince, breaking up any lumps.  Cook the mince until any liquid (water and fat) has evaporated, the mince can now begin to brown.  Keep a check on it,  as it will begin to cook fairly quickly at this stage.  Keep it moving so that it browns evenly but does not dry out.
Stir in the tomato pasta sauce.  Reduce heat, cover and simmer the beef mixture for 15-20.   While beef mixture is cooking cook the pumpkin pieces until just tender.
Stir the cooked pumpkin through the beef mixture, spoon into small ovenproof bowls and sprinkle with the cheese.
Preheat grill to hot and place bowls under the grill to melt the cheese.